sMArt roots
A deeply rooted strategy for a connected and thriving city
As part of the Mannheim Smart City initiative sMArt roots, the HDIL is developing interactive visualizations that support the analysis and communication of urban data. The focus is on the investigation of new visualization scenarios for complex issues in order to use them in explorative-analytical as well as in didactic-explanatory contexts. Aim is to develop appealing and usable visualizations for a broad audience, with which citizens can explore selected aspects of a smart city. These range from climate resilience, to mobility transparency to resource efficiency.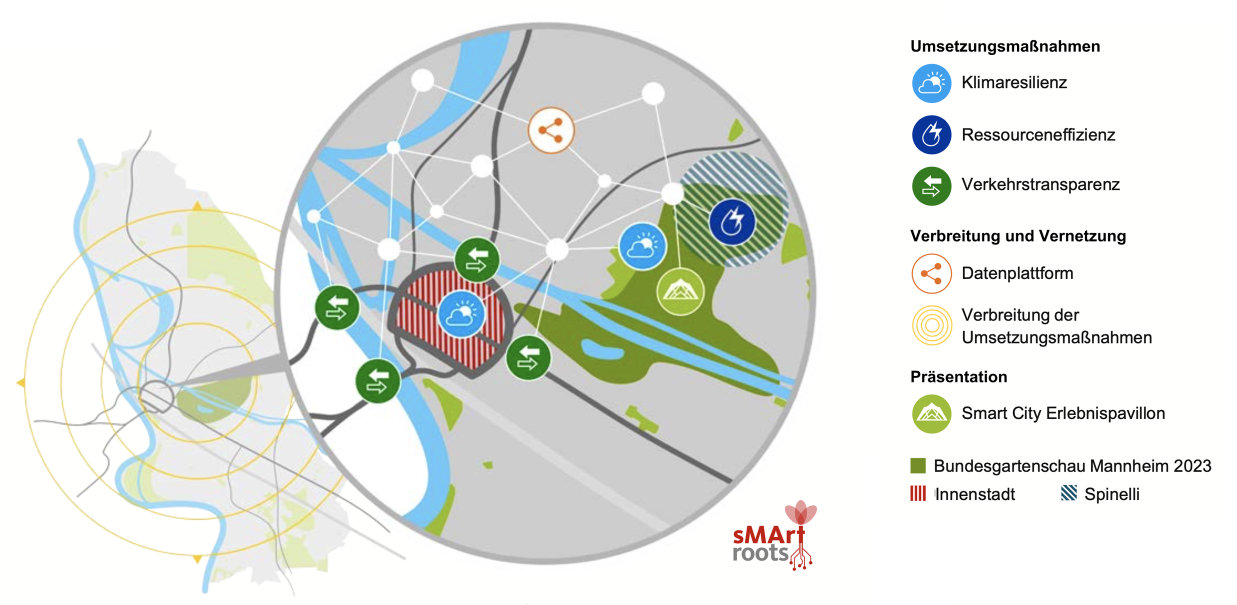 At the heart of sMArt roots is an agile process for developing and implementing a validated and networked smart city strategy for Mannheim. Two platforms will be provided for this purpose:
The communication platform connects different actors from citizens to technical experts through different formats and invites these stakeholders to discuss and work on the strategy.
The technical data platform and a set of applications verifies the practicality of the strategy and identifies newly emerging issues. The principles of data ethics are reviewed and concretized on the basis of different data generated within the framework of three domain applications.
One aim is to present sMArt roots in a Smart City Pavillon to 2.5 million expected visitors at the Federal Garden Show Mannheim 2023.
Together with two research groups of the University of Mannheim, the HDIL is part of the Smart City Mannheim Lab. In addition, Prof. Dr. Till Nagel is member of the Smart City advisory board of the City of Mannheim.